I am trying a new strategy this fall when it comes to the leaves on our lawn. In previous years I raked and deposited the leaves in piles at the edge of the forest that is in our back yard. I always contort myself in some part of the process and end up with aches and pains. So – this year I am experimenting with mowing the leaves – mulching them into the yard. Mowing does take some effort but the motion is regular and I don't end up with aches. Mowing must be done frequently enough that the leaves don't get so thick on the ground that the mower isn't effective. The yard looks great for a time after the mowing (see a before and after picture below of an area under a sycamore).
The mowing is working great for leaves like oak and sycamore that are large and brittle; the mower mulches them quite well. The smaller and more flexible types of leaves (plum, tulip poplar, and maple), which have not fallen as much in our yard yet, might be another story.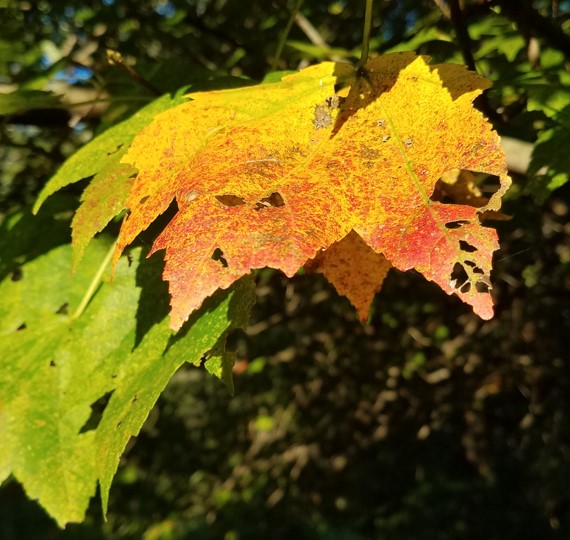 Right now, I am just enjoying the occasional colorful leaf on the maple.
The projection for our area is that the fall will have less color because of the near drought conditions we've had since mid-summer. We'll see. There are still a lot of leaves left on the trees and the leaf mowing experiment still has a month or so to go.