Last week I was in Carrollton, TX and decided to get my exercise by walking from my parents' house to Josey Ranch Lake Park. It's about a mile each way. I printed a Google map for the walking route since the route meanders through a neighborhood. It was an easy morning walk. And there were some winter-time birds newly arrived for the season at the lake. The first ones I spotted were Northern Shovelers. They are easy to recognize by the bill that looks too big for the head.
I'd seen American wigeons before…but not often enough that I remembered what they were. I took lots of pictures and then checked All About Birds to identify them when I got back from my walk.
The other bird that winters in this area that I saw at the lake was a cormorant. It was harder to spot because it was fishing (diving frequently) and it was seemingly alone.
There were birds that are in the area all through the year too: Common grackles
And American Coots (the two birds in the foreground below…with a Northern Shoveler behind them).
Now that I've identified the types of birds present…see how easily they can be recognized in these mixed group images. They were all feeding together at the lake.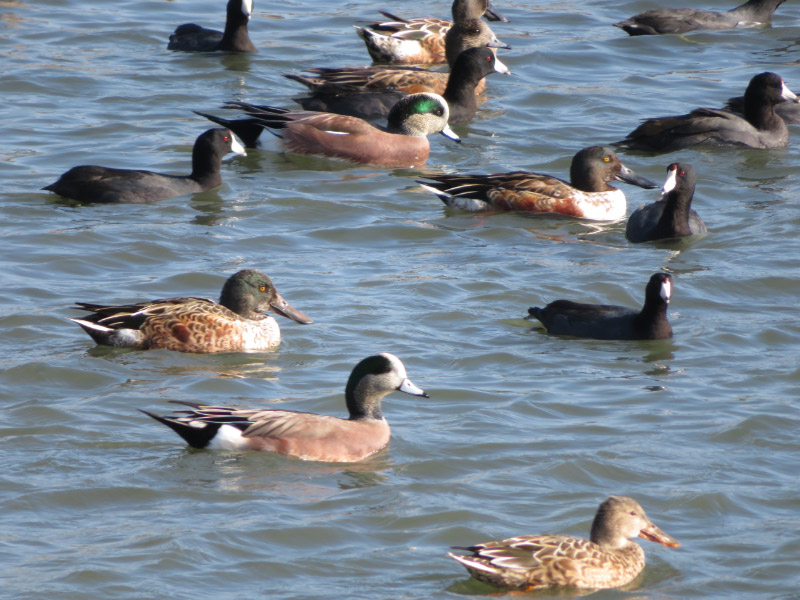 I walked a little further around the lake and took pictures of turtles warming up for their day…I got a little too close and they plopped into the water.
I walked back to where I started the loop around the lake. I had just started taking more group pictures of the ducks when some American coots got into a tussle and startled the whole group….lots of splashing water as birds lifted off and moved to the center – safer – part of the lake.
As I walked hope I saw a very large katydid on a fence. It was turning brown with the season.
There was also a very dense group of weed flowers growing in a narrow band of dirt between the fence and concrete….a fall floral.