There are so many books to browse through – or read – online. I am always fascinated with the perspective of history from books of a time period. It's the closest we come to talking to the people that lived the events before our time.
Newell, Peter. The Rocket Book. New York: Harper & Brothers. 1912. Available from the Library of Congress: intro to the collection here and the book in slideshow mode here. The upward course of a rocket from the basement up 20 floors of apartments! Yes – it's dated (keep in mind the copyright date) but it is fascinating to notice what the author thought people would be doing in their apartments…and that he was thinking about rockets!
Menpes, Mortimer (with text by Dorothy Menpes). World's Children. London: A & C Black. 1903. Available from Hathi Trust here. Menpes was an Australian born British painter, author, printmaker and illustrator. He was a developer of techniques to produce colored art works in book form. His daughter, Dorothy, wrote the text for some of those books. The sleeping baby was one of my favorites from this book.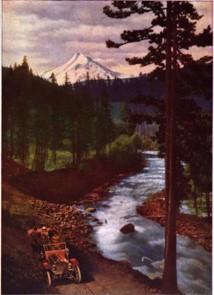 Sunset (magazine). San Francisco: Southern Pacific Company. Issues from May 1898 – 1923 from Hathi Trust here. I pointed to this magazine last month as well. I am still working my way through the magazines up to 1923. The one to look at this month is V31 from 1913. There are lots of colorful pictures – like this one of Mt. Hood in Oregon. Soon the years of World War I would cause the magazine to be produced with only the cover and a few ads in color.