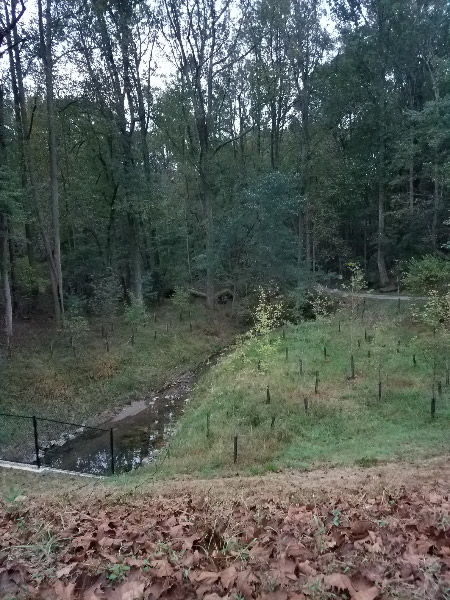 Last Wednesday was the second day of the week that I volunteered through the Howard County Conservancy to help with a high school Stream Assessment in the Middle Patuxent River off the Kings Contrivance Loop trail; same location, different high school. The day still started out in near darkness…but then it was sunny!
We set up for the macroinvertebrate identification and quality assessment: collection bins and buckets and nets at the river level then tables with identification and analysis materials to the side of the trail.
I took a river level picture…much better without the rain – although the temperature was in the 50s rather than the 60s like Monday.
This time the white board worked very well to summarize the macroinvertebrates the students found and identified.
The students took pictures of the critters during the field trip. I let them borrow my clip-on macro lens. One girl had a very steady hand and took video of one showing gill movement. I took my pictures after the students headed back to school. Here are some my favorites.
Two entwined netspinning caddisfly larvae and a dragonfly larvae
A lot of dragonfly larvae…different instars and species
Another dragonfly larvae – one that seems to like this particular stretch of the Middle Patuxent. We'll see if we find any upstream in day 3.
Several different pictures of the same damselfly larvae. We use ice cube trays to separate the critters while we are identifying them…they are 'macro' but not very big!
Two different kinds of mayfly larvae.
As I walked back up the hill to my car, I savored the sunny day and the near solitude of the walk.
The feeder streams still had trickles of water. One neighborhood woman that came by before the students arrived told me that the river had gotten bigger in the 30 years she has lived in the area and walked the trail. The river has dug down through sediment enough that it becomes a roaring torrent when it rains hard and rarely connects to its floodplain.
I couldn't resist a fall leaf. Most of the forest is still green. We're still waiting for fall color!